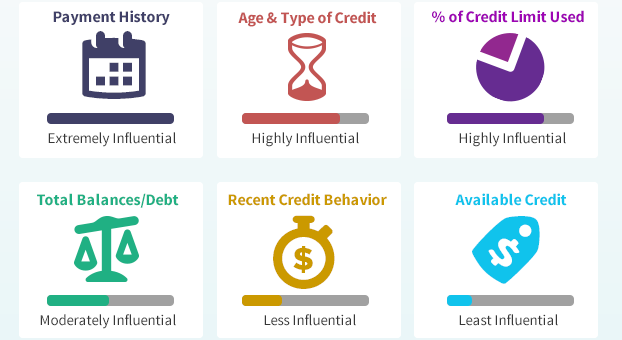 How Your Score is Calculated
The scale for VantageScore® 3.0 is 300-850. Your score is calculated from information in your credit file. That information is divided into six categories, but not every category carries the same weight. The categories are: payment history, age and type of credit, percentage of credit limit used, total balances/debt, recent credit behavior, and available credit. In general, here's the relative weight of how each category (see photo above) influences your VantageScore credit score.
The VantageScore credit score was launched as a joint effort by the three major credit reporting companies (Equifax, Experian and TransUnion). Today, the VantageScore credit score is used by thousands of lenders, including the nation's largest banks, in their credit card, auto lending and mortgage businesses.
To learn more about what is specifically impacting your score, review your full credit reports. Request your free credit reports at https://www.annualcreditreport.com.
Source: Quizzle.com
Disclaimer: I am not an expert on this subject. These blogs serve as an interpretation of life from a philosophical viewpoint.